These are third party provided calculators that might be helpful when screening the potential for applying photovoltaic solar energy generation at specific locations.
PVGIS Calculator
The PVGIS calculators for Europe, Africa and parts of Asia are provide by the European Commission Joint Research Centre.

PVWatts calculator
The world wide PVWatts calculator is provided by NREL, the national laboratory of U.S Department of Energy, Office of Energy Efficiency and Renewable Energy, operated by the Alliance for Sustainable Energy, LLC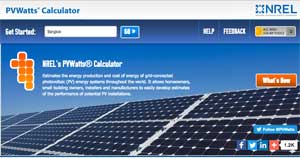 Please be noted that all use of the above tools and the use of any information contained in or derived from the tools is at your own risk. Neither Energyfaculty.com nor the the provider of the tools makes any warrant, express or implied of merchantability and fitness for a particular purpose or assumes any legal liability or responsibility for the accuracy, completeness, or usefulness of any information provided by or derived from the tools, or represents that its use would not infringe privately owned rights.
To learn more about photovoltaic solar cells go to:Photovoltaic energy generation