Content – Energy sources

 

---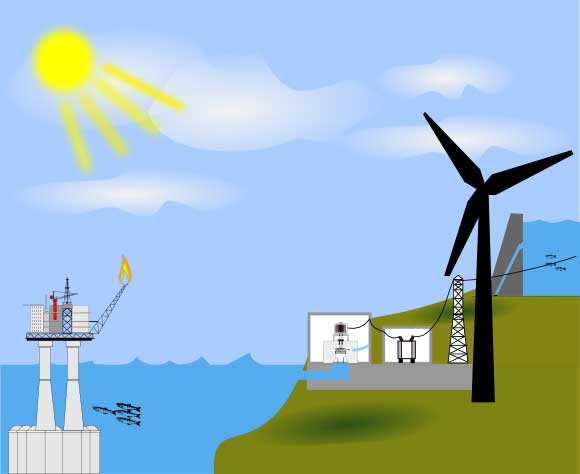 Sources of energy – Primary energy
Primary energy or sources of energy are found in nature and has not been subject to conversion or transformation.
The first law of thermodynamics state, "Energy can neither be created nor destroyed"
Energy can only be converted or transformed.
 
For more data on global energy consumption, energy production and emissions view our charts:
Energy carriers
Energy carriers are transformed from primary energy or primary sources of energy and contain energy that can be converted to other forms such as mechanical work, heat or to operate chemical or physical processes. An energy carrier is a transmitter of energy.
Primary energy
Conversion
Energy carrier
Crude oil
Refinery
Fuel (oil, gasoline, etc)
Natural gas

Power

plant
Elctricity, enthalphy (fuel)
Coal
Power plant
Elctricity, enthalphy
Natural uranium
Power plant
Electricity
Solar energy
Powerplant (photovoltaic),

Powerplant (thermal)

Electricity
Enthalphy
Wind energy
Powerplant (wind turbines)
Electricity
Tidal energy
Power plant (hydro turbines)
Electricity
Other water in motion (rivers, waterfalls)
Power plant (hydro turbines)
Electricity

Biomass

Power plant
Electricity, enthalphy
Geothermal energy
Power plant (steam turbines)
Electricity, enthalphy
Earth

magnetic field

No practical applications
Lightening
No practical use
Note 1: There are various, slightly differentiating definitions of primary energy and secondary energy (energy sources) representing various scientific views, preferences and interpretations.
Note 2: There are many more examples of common energy carriers including: Springs, batteries, capacitors, water magazines, hydrogen and wood.
 
Annual global primary energy consumption.
(click on chart to view larger version)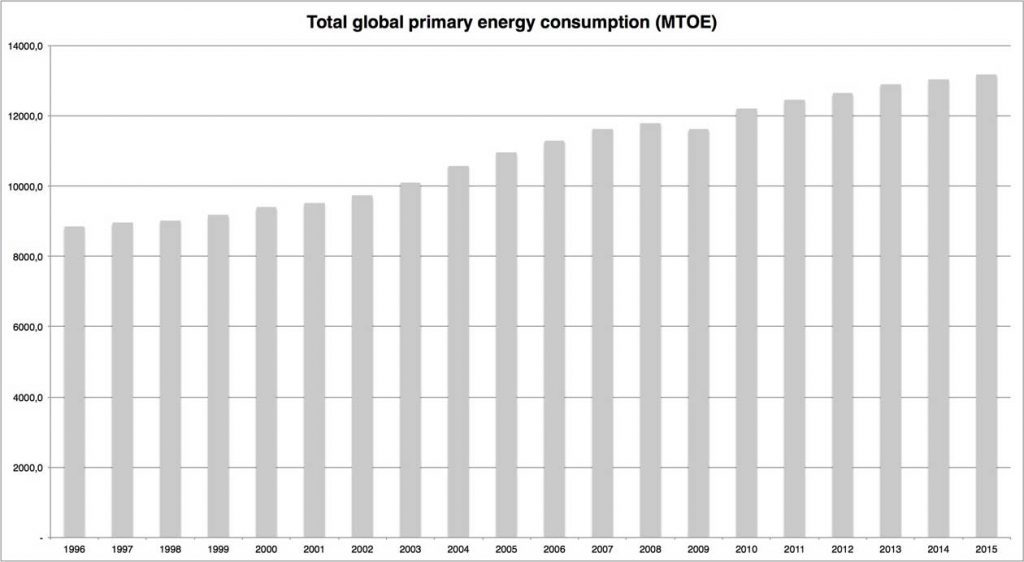 Annual growth global primary energy consumption.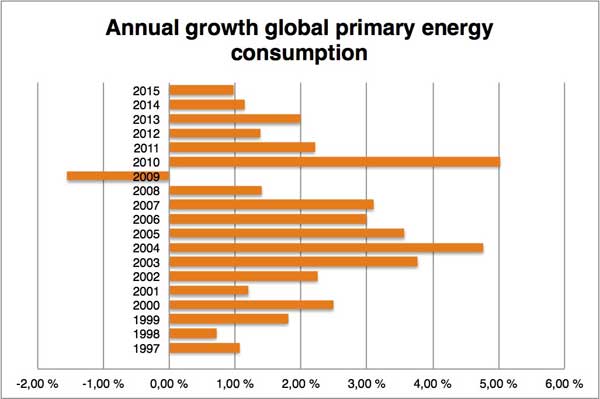 MTOE – Million tonnes oil equivalent
Data source
BP Statistical Review of World Energy (www.bp.com)
 
For more data on global energy consumption, energy production and emissions view our charts: